Out and about On the PANORAMAWEG around the Tegernsee
The Panoramaweg in numbers
Length: 33,6 km
Ascent (in m): 620 m
Descent (in meters): 620m
Duration (in M) 9.30 hours
Lowest point (in meters): 724m
The highest point (in meters): 869m
Starting point of our hike
City of Tegernsee car park at the monastery (the starting point can be chosen individually, we have chosen this here.)

Culture on the Tegernsee Panorama Trail
Tegernsee Monastery
Tegernsee Valley Museum
Lärchenwald Tegernsee forest adventure trail
Ludwig Thoma House Tegernsee
Rottach-Egern horse-drawn carriage and sledge museum
Adventure trail on the Weissach Kreuth
Aquadome Bad Wiessee
Jagerhaus and Gmund Museum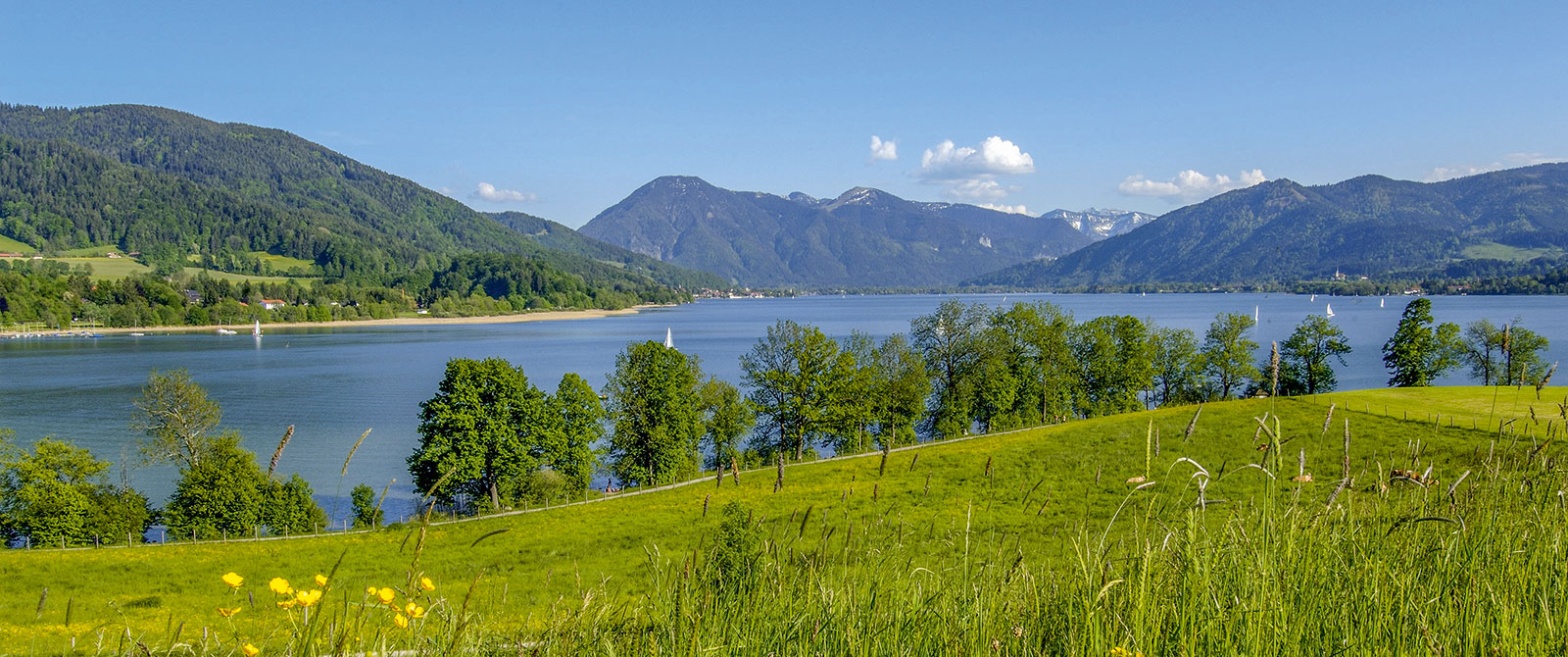 Tour description:
We have chosen Tegernsee as the starting point, but you can also hike this tour from another starting point.
Our tour starts at the Tegernsee Monastery. Use the central parking lot and hike to the lake. From there it goes on to fish farming. Please cross the main street there and walk up to the Leeberg. In addition to the larch forest adventure trail, our path leads us to the view from Paraplui. Here follow the signs to Leebergho. Via the tufts at the Ludwig Thoma House you walk directly to Rottach-Egern. Our next destination is the well-known coach, carriage and sleigh museum with its unique collection of historical teams. From there it goes on to the valley station Wallbergbahn and on to the adventure trail on the Weissach. This also invites children to explore and experience. Cross the Weissachbrücke on the way to the natural cheese dairy Tegernseer Land in Kreuth. This ambience invites you to take a rest.
Go on the main road in the direction of Rottach-Egern (OT Oberach). Continue on the right side of Weissachdamm to the south bank of Tegernsee. Here keep to the left, after a short distance on the main road, we go back along the lake to Bad Wiessee. When you arrive at the "Aquadome", continue along the Söllbachdammweg. We cross the federal road and walk towards the Prinzenruh viewpoint. An ideal place to rest to enjoy the view. The Wiesseer Höhenweg represents the next part of our hike. Follow it to the next district of Holz and continue to Gmund. There you will be warmly rewarded at Gut Kaltenbrunn with a great view over the Tegernsee. Our route continues down to the north shore of the lake and further along the shore to the Seeglas district. A detour to the local museum "Jagerhaus" in Gmund is definitely worthwhile. Cross the railway line and main road in Seeglas here and continue up to the next district of Gasse. Now we are getting closer to our starting point. Enjoy the wonderful views along the Tegernseer Höhenweg and follow it. The fresh nature of the Bavarian mountains and the Tegernsee invite you to be happy. You will soon be back in Tegernsee. The signs lead you back to the starting point, this probably unique, promising and eventful hike, the Tegernsee Panorama Trail.
Further information on the panorama hiking trail:
www.tegernsee.com/panoramawanderweg